Meet Pathpoint, the first open digital wholesale brokerage for the E&S industry. With half the team based in San Francisco and the other half — hired during the pandemic — dispersed throughout the country (Phoenix, Atlanta, DC, NYC, New Jersey, Boston, LA, Denver, Seattle, etc), senior leadership decided to bring everyone together for a retreat experience in Vail, Colorado.
The goal, in addition to having everyone meet in person, was simply to provide an unstructured opportunity for team members to be present with each other outside the workplace context and focus on deepening relationships.
Continue reading to discover how Pathpoint's retreat came to life with the help of Flok.
Selecting a destination & venue
The Pathpoint team had a number of destinations in mind (all Mountain Time), including Jackson Hole, Park City, and Vail. Initially, they were leaning towards Park City, but with Flok's help, they soon realized that there weren't any accommodations available that would suit their needs — or their team's size. So Vail it was.
The city, which sits at the base of the eponymous mountain just two hours from Denver, offers the quintessentially "Colorado" experience the team was looking for. While it's the state's largest ski resort, the pedestrian-friendly village maintains its quaint mountain town atmosphere, complete with Bavarian-inspired architecture and no shortage of local restaurants. The summer season brings unique opportunities to enjoy the outdoors, including hiking, golfing, and fishing.
READ MORE: 15 Best Corporate Retreat Destinations
When it came to selecting a venue in Vail, Flok steered Pathpoint towards Sonnenalp, a boutique hotel owned and run by the Faessler family, whose ranch in Bavaria served as inspiration. The location — in the heart of Vail Village, just a four-minute walk from the ski lifts — couldn't have been more convenient.
Planning each day
Flok planned dedicated time in the morning for working sessions in a reserved hotel conference room, followed by afternoon activities that included:
The team worked together to assemble care packages for children entering foster care through the organization, Together We Rise.
The destination was a backcountry yurt, where the team enjoyed a four-course dinner at Tennessee Pass Cookhouse, an open-air restaurant which overlooks the Sawatch Mountain Range for an only-in-Colorado experience.
Sarah (Pathpoint's dedicated Flok Trip Designer) secured seven separate reservations at restaurants around Vail in order for small groups of 4-5 to dine together — an experience that Pathpoint's Chief of Staff Rahul Desai calls one of the highlights of the experience.

"Being able to enjoy a meal with an intimate group of colleagues was a real pleasure," he explains. "People uniformly enjoyed the group dinners."  
How Flok helped
Coordinated flights & on-the-ground transportation
Secured accommodations at the best available rates
Secured reservations at outdoor restaurants
Arranged the volunteering activity
Arranged COVID testing both upon arrival and pre-departure (and ensured all hotel staff wore masks)
Ensured they remained under-budget for the retreat
Helped collate receipts post-retreat
"We knew we needed to outsource planning since our staff was too busy," explains Desai. "Flok took the burden off our shoulders and they were definitely willing to go beyond the basics. I think they have a better understanding of what startups are looking for in a retreat, versus the large corporate event planning companies."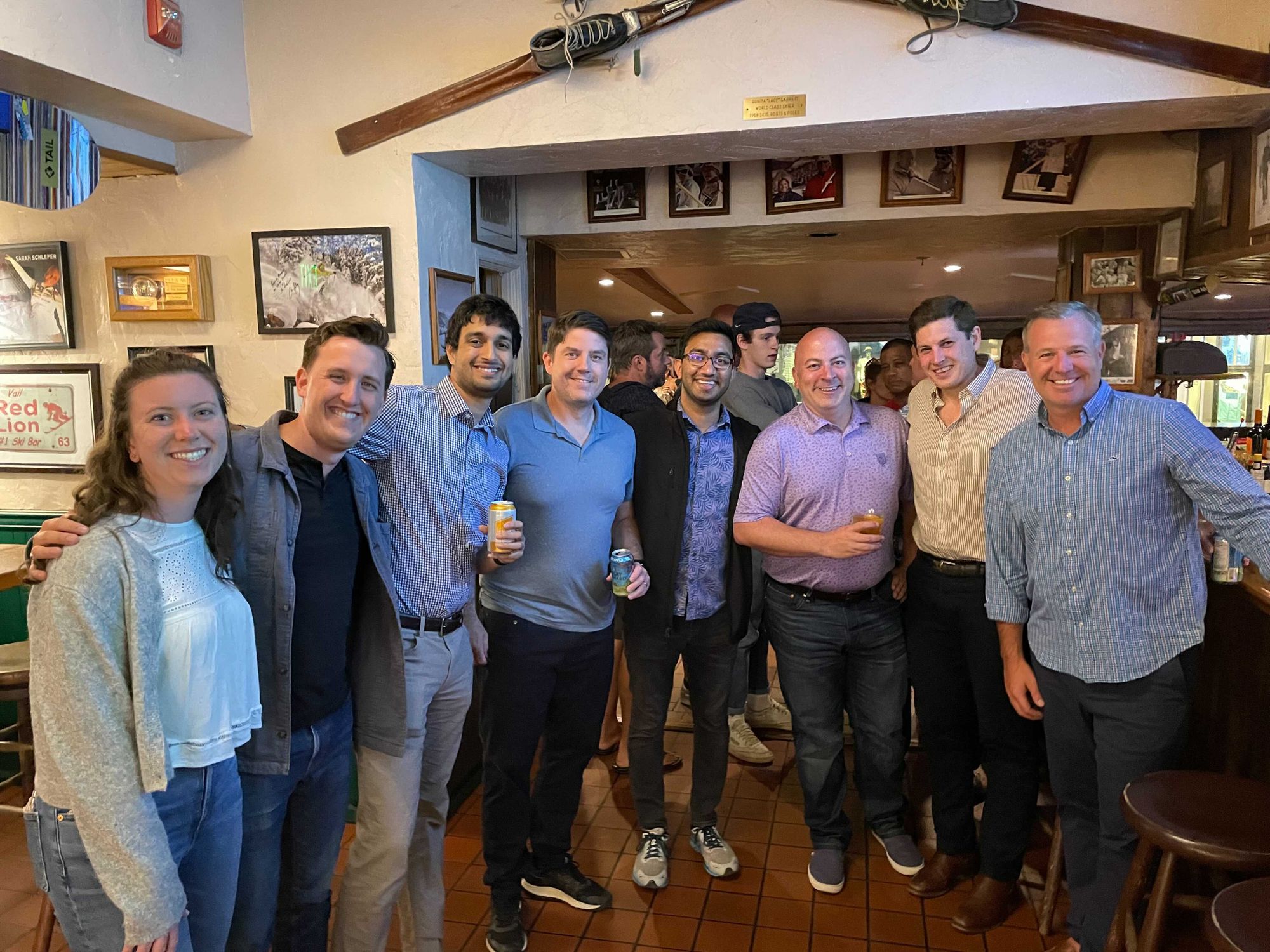 Looking to the future
Pathpoint plans to do full company retreats at least every six months, more likely quarterly. In addition, they expect individual departments to host their own "team-sites" on a more regular basis.
"Personally, I learned a lot about people's lives outside of our company (about their spouses, kids, prior jobs, etc)," explained Desai. "As someone who was hired remotely during the pandemic, that experience gave me a fuller picture of who my colleagues were. People went home feeling energized about their relationships with colleagues and the trajectory of the company. When your relationships with colleagues are intermediated mainly by chat and video calls, getting together in a new environment with the sole purpose of getting to know each other more fully enables folks to bring their whole selves to work. In fact, in the two weeks after the retreat, we set records on some of our most important company metrics."
Interested in reading more about other retreats Flok has planned?