Backed by Y Combinator and Craft Ventures, among other leading learning executives, Arist helps organizations from Amazon to the State of California rapidly teach and train their employees. The hook? Text-based courses, which are not only accessible, but effective.
Founded in 2018 as a fully-remote company, Arist has team members spread across eight states, with Los Angeles and New York as coastal hubs for certain teams and departments. The plan is to remain fully remote beyond the pandemic with corporate retreats on either a quarterly or bi-yearly basis — a working structure that, according to Chief of Staff Jasper Ng, will allow the Arist leadership team to hire the best talent regardless of geographical location.
Below, a behind-the-scenes look at the planning process for their most recent retreat to Portland, Oregon.
Selecting a destination & venue
With a team spread out across the country, finding a suitable destination for everyone was a challenge. After narrowing the list to two locations (New York and Portland), they decided to proceed with the latter for a few key reasons. For one, Arist Co-Founder and CEO Michael Ioffe grew up in Portland — "he's a seasoned tour guide!" says Ng. Other factors that contributed included a beautiful venue secured in the Bodecker Foundation (a space that typically hosts workshops and events for the local creative community), as well as the fact that Portland was a first-time visit for many team members, dubbed "Aristians."
READ MORE: 15 Best Corporate Retreat Destinations
Aligning on retreat goals
From the outset, team-building was the top priority for the retreat.
"Because the majority of our team had never met in person, we really wanted to use the five days we had together to get to know each other in a way that was impossible over Zoom," explains Ng.
To that end, their Flok Trip Designer (Sarah) reserved mornings for dedicated work time, during which the team could have meetings and brainstorming sessions in-person, followed by afternoons and evenings with team-bonding activities.
"We needed work time sprinkled throughout to keep Arist operational," explains Ng, "but our main goal throughout was to give Aristians a special opportunity to further the lasting relationships we have with one another in an authentic space."
Planning activities
Over the course of the five days, Sarah planned various excursions for the Arist team out and about Portland, including…
Cruise along the Willamette River on a Classic Fantail Boat
A 90-minute tour, during which time the team passed beneath 10 of the city's 12 iconic structures against the backdrop of Downtown Portland — the best way to learn why it's nicknamed "Bridge City."
Scavenger hunt through Central Portland
The team was broken up into small groups and used a scavenger hunt app to solve riddles, complete video/photo tasks, and other creative challenges.
Cooking class with a local chef
The Arist team joined Leta Merrill, chef and pasta maker extraordinaire, for an evening of mixing, rolling, shaping, and, of course, eating delicious homemade pasta. In addition to making the dough from scratch, they learned all about different types of pasta doughs, as well as what goes into sourcing the best ingredients.
Game day: Clue Murder Mystery
Once again, the team was broken up into small groups to solve a mystery using clues, case files, and logic — creative problem-solving at its finest.
The highlight of the retreat? A tie between the scavenger hunt, pasta-making class, and boat ride, explains Ng. But more importantly was the overall experience of getting to meet each other in person.
"Arist has always hired for kindness," he explains, "and the retreat not only affirmed but reinforced the notion that even though we're spread throughout the country, Arist is still one big family that cares deeply about one another."
READ MORE: 15 Great Team-Building Activities For Work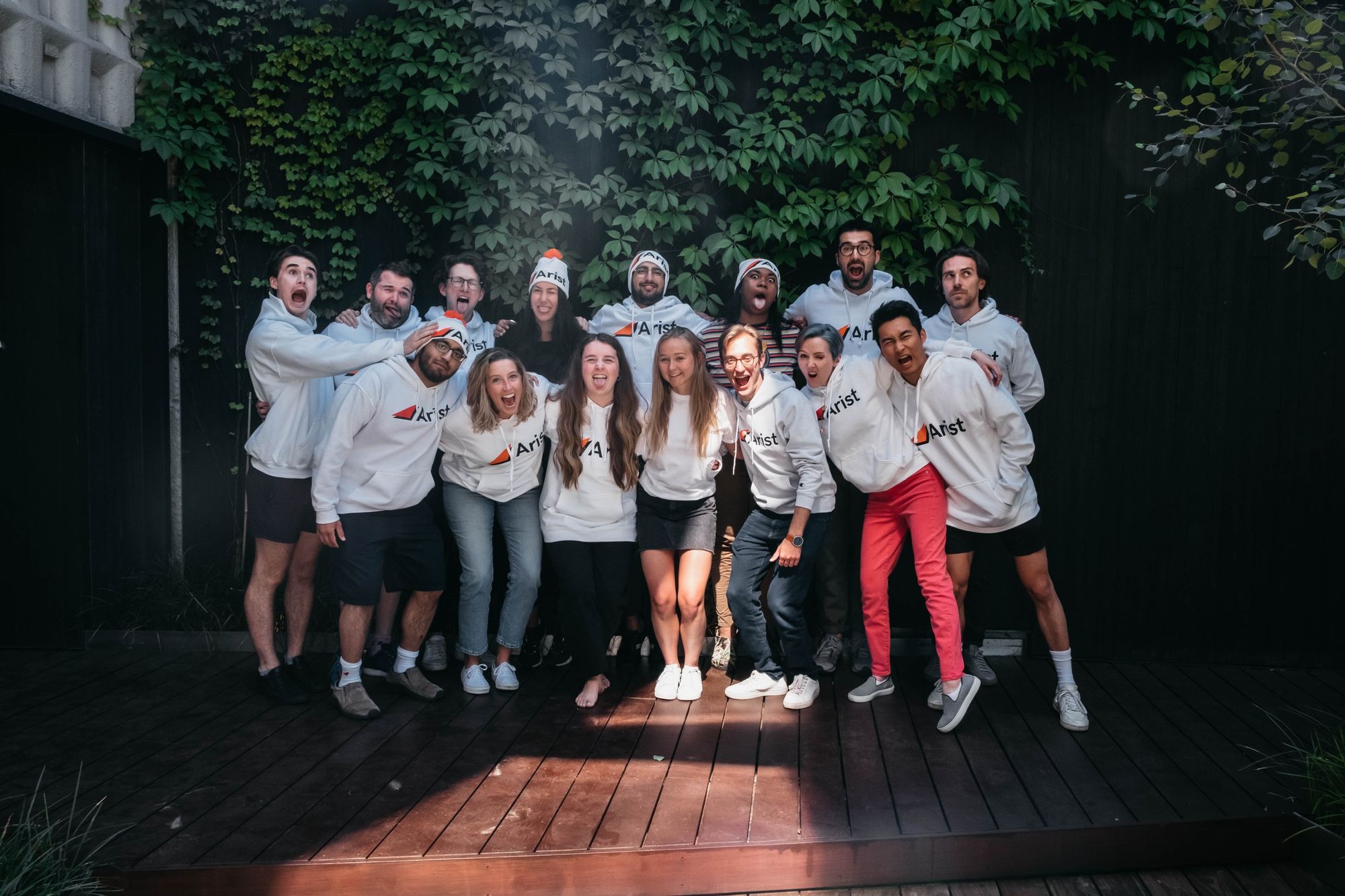 Planning dining
Breakfast and lunch were delivered daily to the Bodecker Foundation (breakfast from a local café or bakery and lunch from the neighborhood-favorite Elephants Deli), while dinner plans varied day-by-day.
In addition to the cooking class, Sarah organized dinner for the team at ClarkLewis, a pioneering farm-to-table restaurant that skews Italian and French with a Pacific Northwest flair. Located in a converted warehouse, the restaurant only uses ingredients grown or caught within 100 miles of the city.
In addition to securing the reservation, Sarah also arranged for van transportation to the restaurant.
The value of Flok
"The primary value-add of Flok was decreasing our team's stress about logistics and saving us time across the entire planning process," explains Ng. "The Arist team was really busy and no one had enough time to focus on nailing down all the logistics from dietary needs to fight plans. Flok was extremely flexible with our needs and helped us to adjust things last-minute, and also helped us find cool local vendors that the team loved that we weren't aware of."
The bottom line
"There was a visible difference pre-and post-retreat for Arist. Everyone was already aligned on the long-term vision and doing phenomenal work, but the retreat served as a unique reaffirmation of everything Arist embodies," explains Ng. "The week after the retreat, although we had a short 'post-retreat slump' (a form of separation anxiety, I suppose), the energy levels quickly and visibly rebounded to new heights, with everyone feeling empowered and having high conviction of our culture, purpose, and mission."
Thinking about bringing your team on a retreat? Get a free proposal from Flok today.
[Interview edited for clarity.]