To say NLX is a New York City-based startup wouldn't necessarily be false — it is where their headquarters is located — but it's not entirely true either. The organization spans the globe, with team members located everywhere from Seattle to Prague, Berlin to Minneapolis, Orlando to Washington DC.
"Our team members work in offices across the globe, which is why we choose to remain remote," explains Social Media and Online Marketing Manager Julie Campbell. "Several members live in New York and come into our headquarters to conduct work, with semi-frequent visits from those living on the West Coast. Since we're primarily remote, we use different channels to build an inclusive, effective, and fun work environment."
Chief among those channels which foster a positive team culture are quarterly retreats, most recently to Nashville, Tennessee with the help of Flok. Continue reading to learn more about how it went, from the planning process to the experience itself.
Aligning on retreat goals
Understanding why you're bringing your team on a retreat is the first question we advise companies ask themselves. Here's what NLX had in mind.
Meeting new faces & fortifying company culture
"Our company's growth has been exploding over the last few months," says Campbell, "so we took this as an opportunity to enjoy the experience of meeting all the new faces and getting those enriched social encounters for the first time."

Aligning on company mission & long-term goals
"We see bonding as helping support NLX in regularly reaching its goals and mission, so balancing both during a retreat has been a wonderful investment."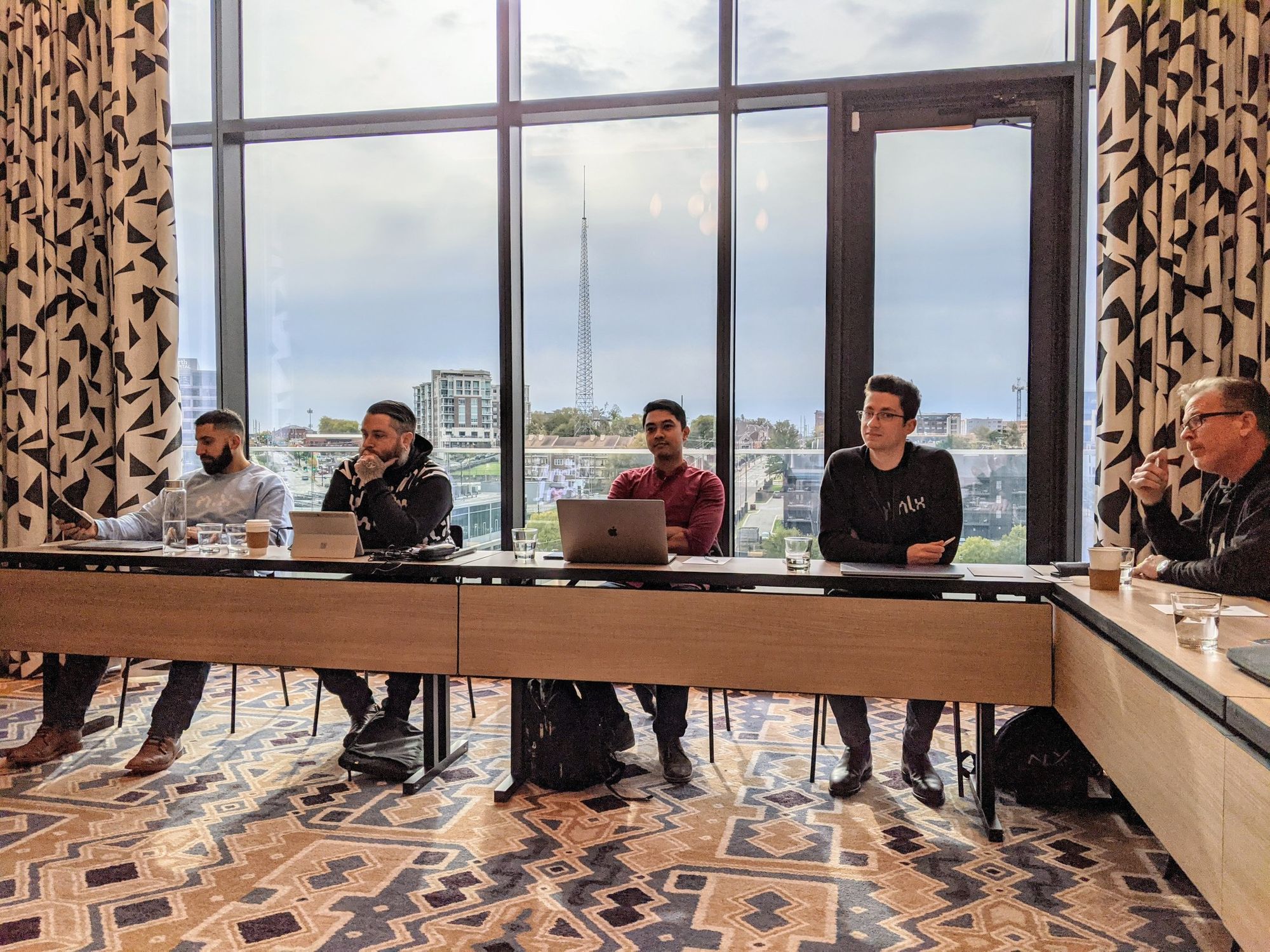 Deciding on a location
The NLX team wasn't set on Nashville from the outset — in fact, Flok proposed several locations based on the team's size, preferences, and retreat goals. From there, NLX leadership conducted an internal poll.
"Everyone was head-over-heels for Music City," says Campbell. "We have a lot of food and music lovers on the team, so Nashville was an excellent choice for us to bond over shared interests."
Selecting a venue
Flok handled the vetting process to book the ideal venue for NLX: Hyatt Centric. Of all the options in Nashville, this hotel came out on top for several reasons:
Location
It's in the heart of SoBro, two blocks south of Broadway and steps away from the Country Music Hall of Fame, Music City Center, and renowned honky-tonk bars — in sum, the perfect location from which to relish in the pride, soul, and beat of Nashville.
Amenities
Including complimentary (fast) WiFi, a 24-hour fitness center, rooftop pool and bar, full-service bar and restaurant, digital check-in, room service, and in-room Chromecast.
"The Hyatt Centric was an awesome choice recommended by Flok," explains Campbell. "The building had the most convenient location among several other options in the heart of Downtown Nashville, so it was easy for our team to coordinate activities nearby without any strenuous logistical planning. We also appreciated the new and modern features of the hotel and regularly took advantage of Hyatt's bar and restaurant space for our team to conduct smaller ad hoc meetings or socialize outside of the formal agenda."
Organizing activities
The big activity of the retreat was a tour of the legendary letterpress icon, Hatch Show Print's production shop. Along the way, the NLX team listened to the presses crank while learning about the history of Hatch. They also saw the colorful, classic posters that put the shop on the map, as well as recent works of well-known entertainers. The tour concluded in the Hatch Show Print Space for Design where they were able to handle some of the tools of the trade and smell the ink as they printed their own keepsake piece.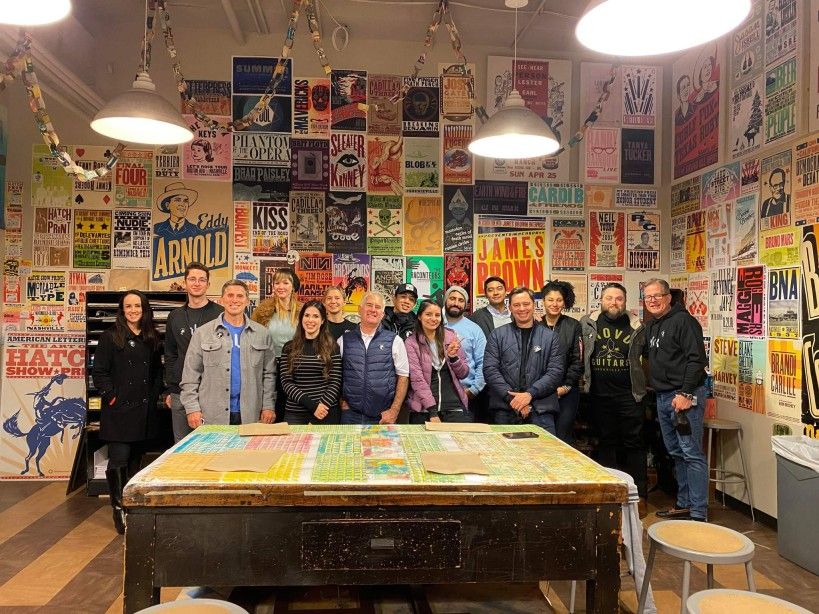 Outside of this organized event, Flok also provided a list of optional activities to partake in during leisure time, including:
Securing reservations
Because dining was high on the list of priorities for NLX, the Flok team made sure to secure restaurants at the city's best spots.
The Diner
This six-story restaurant is the crown jewel of Downtown Nashville's SoBro district. Each floor boasts gorgeous views of the city with floor-to-ceiling windows that wow new and repeat visitors alike.
Etch
Located two blocks from the Hyatt Centric, Etch is a globally-inspired restaurant by award-winning chef Deb Paquette. It has two private dining rooms, a full bar, and a chef's bar where guests are encouraged to interact with chef Deb. Food-wise, Etch's eclectic menu incorporates innovative dishes inspired by her favorite regions of the world to leave a lasting impression (or etch) on every diner.
The Mockingbird
This modern diner serves up global fare in a delicious, fun way that mimics its surroundings — that is, comfort food favorites influenced by the global elements that constitute American culture and cuisine. No two dishes on the menu are alike since each pulls from the country's melting pot of cultural diversity to create unique, varied flavors.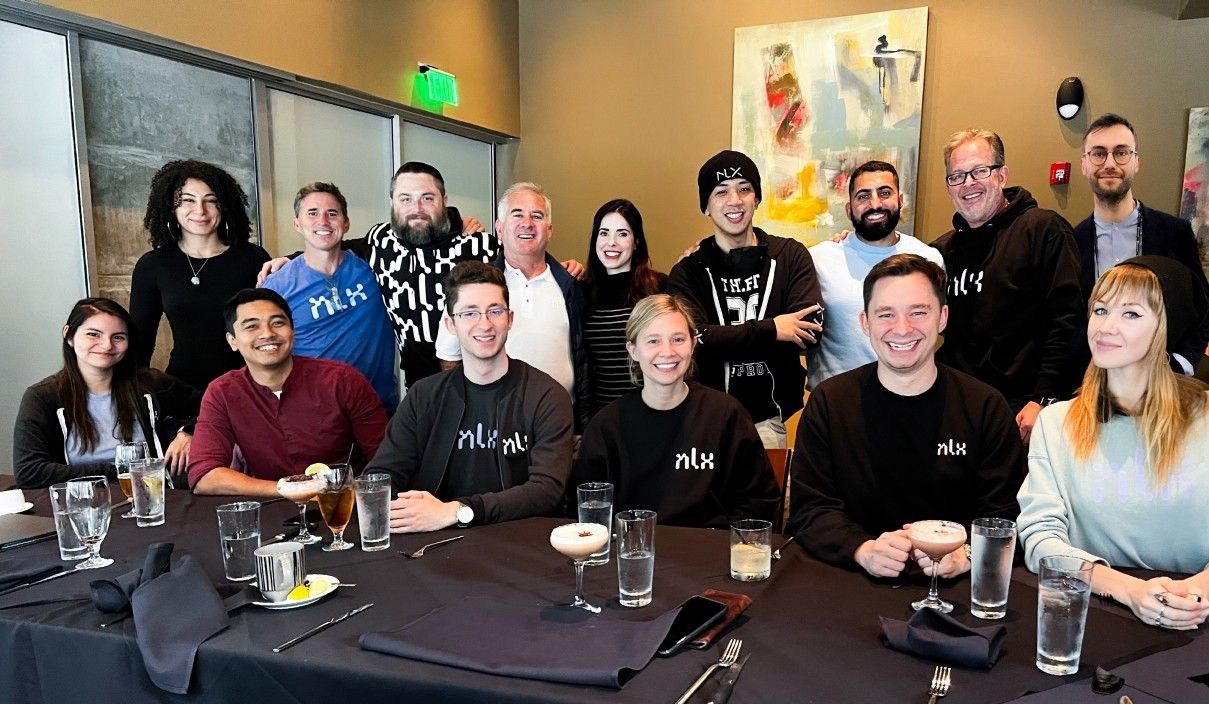 Reflecting on ROI
"Whether you're a company operating remotely or not, the value of scheduling time to concentrate on employees is a message that's heard and felt deeply," says Campbell. "A retreat is the greatest method of establishing company culture in a collaborative way. Nothing can quite capture the sights and sounds of being in the same location as your colleagues and having those shared experiences."
READ MORE: 4 Benefits Of Corporate Retreats In A Hybrid Work Environment
Reflecting on the value of Flok
"Flok definitely helped by providing detailed reports about a variety of options that aligned to our criteria and budget, which meant less time researching on our end," says Campbell. "We loved the recommendations given to us based on what we were trying to accomplish, and we were able to help tailor our experience from there."