When you land on New Culture's website, you're met with a pithy, memorable slogan: "cow cheese without the cow" — which is precisely what this San Leandro, California-based startup is in the business of doing. Their team of cheese-loving scientists is modernizing the art of cheesemaking to create animal-free vegan cheese…which sounds like an oxymoron, but it's actually not. Instead of needing a cow to produce the casein proteins that are vital to making cheese, New Culture harnesses the microorganisms involved in fermentation to make those same casein proteins (the ones that make mozzarella so stretchy and melty) without involving any animals.
Unlike other startups, they're a fully in-person company: five days a week, in an office. "Because we're a food biotech company, the vast majority of our team needs to be in the lab conducting experiments," explains Chief of Staff Ben Freedman. "And everyone is vaccinated, boosted, and masked, so we've been able to do that safely."
They had been thinking and talking about a corporate retreat for a while, but it was only in late fall after connecting with Flok did they decide to make it happen. Below, Ben weighs in on the process, from the initial planning phase to the three-day experience in Napa.
Flok: Why Napa? Did you have that specific destination in mind or did Flok help you decide?
Ben: For logistical reasons, we decided to prioritize a destination within driving distance of the Bay Area. Fortunately, there's a lot within driving range: Tahoe, Napa/Sonoma, Monterey, Marin, Palm Springs. We worked with Flok to narrow down a list of four different destinations with 10 or so hotel options, then landed on Napa based on the lodging, activities, and time of year. We went in November, so it was important the weather not be TOO cold because we wanted to be outside.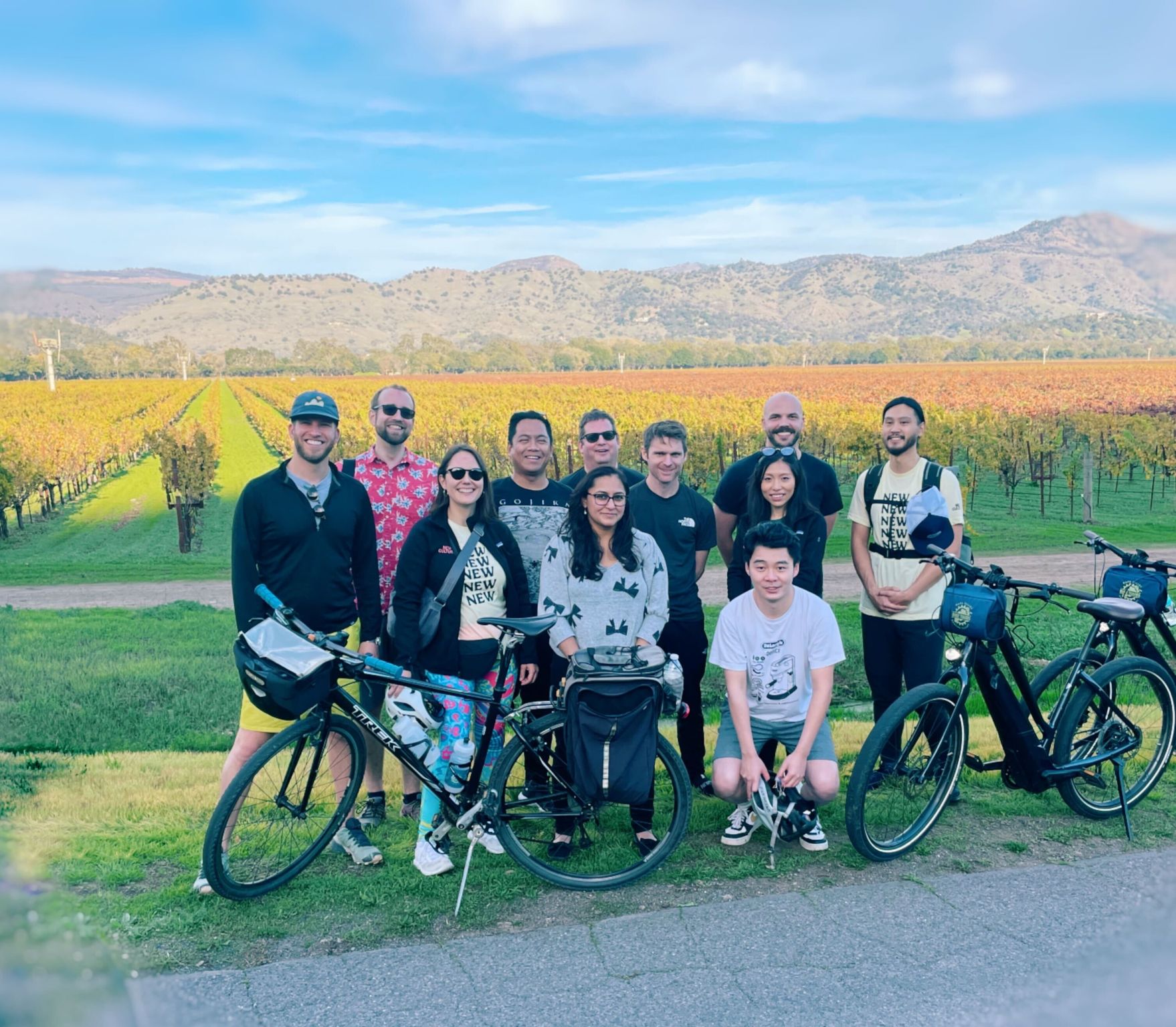 Flok: What were you hoping to get out of the retreat? What were your goals?
Ben: We had four main goals for the retreat, the first being team bonding. Although we spend a lot of time together in the office, we don't have opportunities to socialize outside of work due to COVID. We're pretty structured about health and safety, so there aren't team dinners or happy hours like we would normally have previously.
The second goal was to celebrate a recent funding milestone, kick our heels up, and have the chance to acknowledge the great work that everyone had done together.
Our third goal was aligning on company goals and looking forward. We had modest work sessions, but they were pretty light (just a few hours). It was more generative and brainstorm-focused rather than analytical.
And lastly, unplugging. It may sound counterintuitive to have "getting out of the work mindset" as a goal alongside "aligning on company goals," but really we wanted to provide an opportunity for team members to relax, maybe sleep in, and do fun things together.
Flok: What was the highlight of the experience?
Ben: Our second night, we went to a fantastic California-style farm-to-table restaurant called PRESS. We had our own private dining room and did toasts celebrating our team members. The food was wonderful, the ambiance was great, and Christine from Flok truly thought of everything. She made sure we had a private dining room with a special menu that was printed out. There was a curated wine and cocktail list, too.
Being an animal-free company, we have some team members with restrictive diets, whether that be vegan or vegetarian…we have it all. Planning meals can sometimes be challenging, but Christine was able to find restaurants like PRESS with options that were so good that you wouldn't even know that some of us have restrictive diets. Everything was delicious, special, and abundant.
Flok: How do you perceive the return on investment in company culture?
Ben: There's nothing that can come close to having your team all together off-site in an environment where they can relax, have fun, and get to know each other. When you're in an office, you only get to see one side of someone. With a retreat, you're able to form such deeper connections and strengthen team relationships. It allowed us to get out of the company mindset and have time to reset together and get excited about the work we're doing.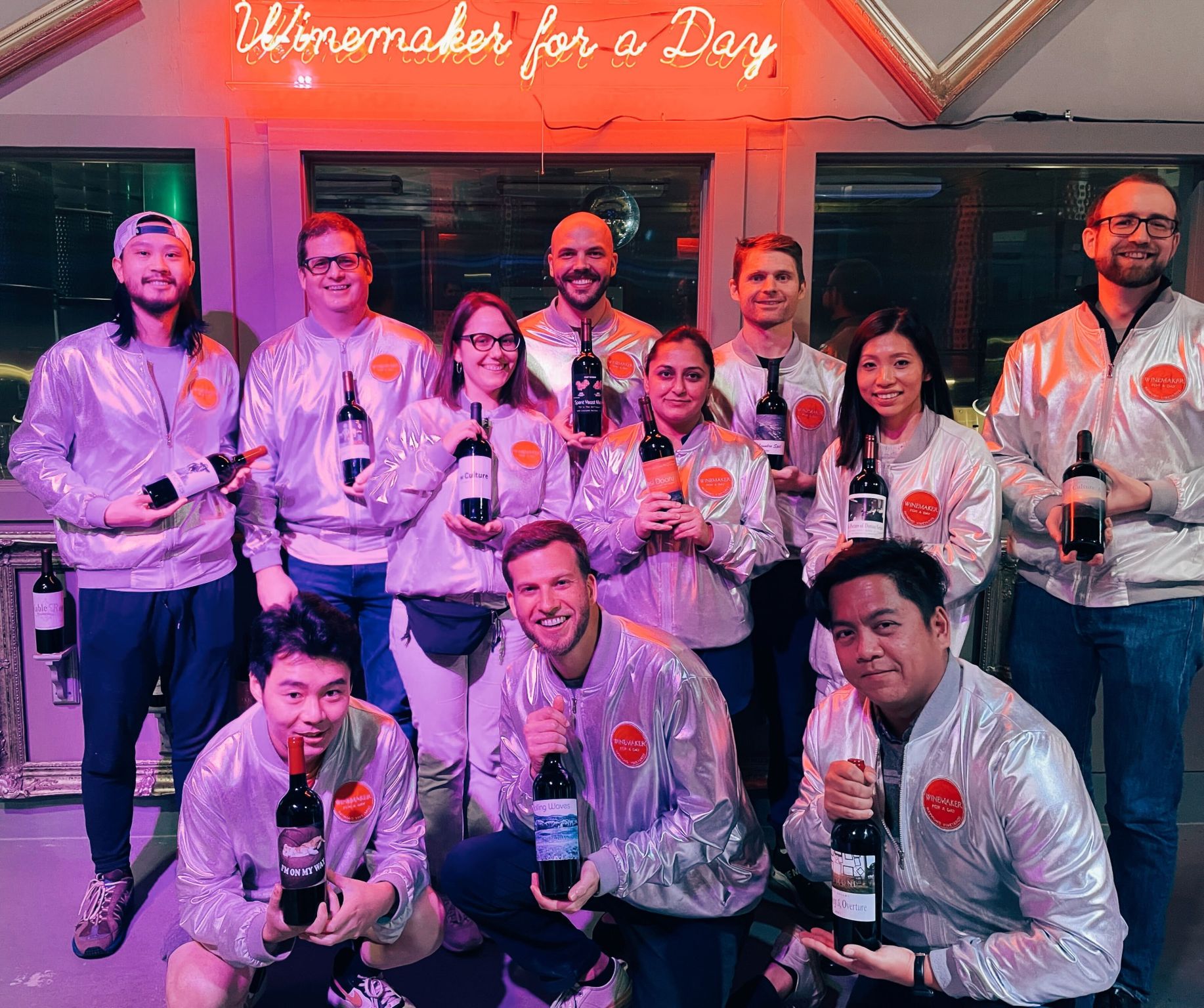 Flok: What was the primary value add of Flok's service?
Ben: It's hard for me to imagine ever planning an off-site without Flok. At New Culture, there's no one whose job it is full-time to do these sorts of things, so we needed an external partner who could tackle anything we threw their way. Flok was ready at every step, including selecting a region, arranging lodging, activities, and meals, designing special experiences, making sure the bus was where it needed to be, and making any last-minute adjustments. With Flok, we were able to save an immense amount of time and take a lot of this off our plate.
[Interview edited for clarity.]