Firstbase.io knows that starting a company is a struggle, from the paperwork to the software to the government headaches. That's why they created an all-in-one incorporation tool that helps companies register their business, receive legal documents, obtain their tax ID number, apply for a bank account, and more. The team is globally distributed with employees in 15 different countries, and while they have a plan to open up an office in New York in a few months, a portion of the team will remain remote.
Late last year, the team got together for a four-day escape to Cancun, the goal of which was two-fold: team-building in addition to working on long-term vision. Below, a day-by-day breakdown of their itinerary, planned end-to-end by Flok.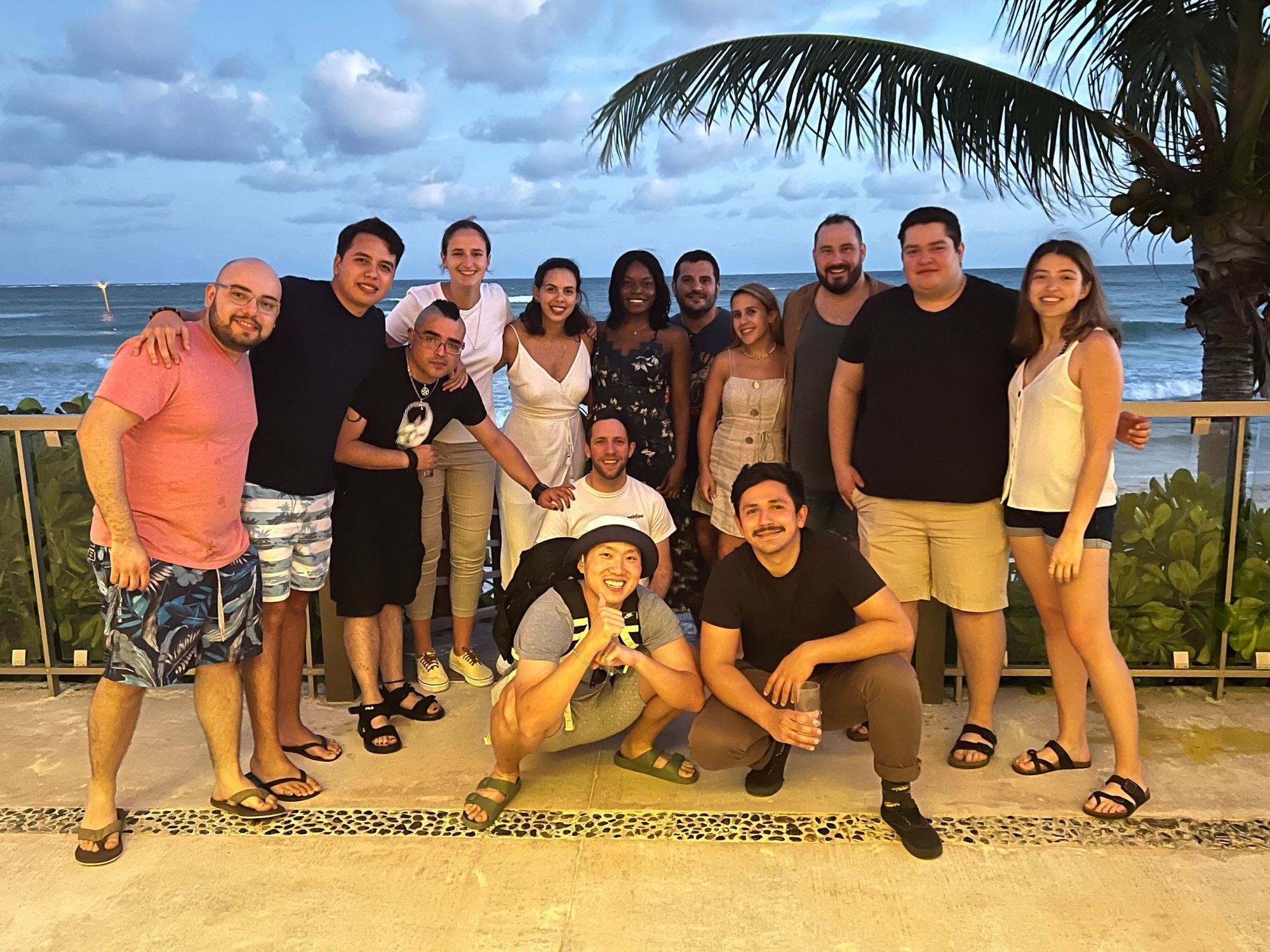 Day 1: Arrival and welcome reception
Flok arranged for transportation both from both the Cancun airport and the central AirBnb location (for those who arrived early) to the team's home base for the retreat, Dream Jade Riviera Cancun.
Set along 2,600 feet of white sandy beach and crystal clear azure water, this resort and spa offered everything the team wanted – and then some: a gym, spa, onsite restaurants, heated pools, mini golf course, high-speed WiFi, and ample conference space.  
After check-in, the team enjoyed a welcome cocktail reception against the backdrop of the Caribbean Sea before dining at leisure at one of the resort's many restaurants, including Cin Cin (gourmet Mediterranean), Mercure (elegant French), Spice (sushi bar), Tamarindo (Mexican), and Capers (Tuscan). In the itinerary, Firstbase.io's dedicated Flok retreat designer, Lauren, included notes on each restaurant's dress code, reservation policy, and hours.
Day 2: Ice breakers, OKRs, and leisure time
The first full day in Cancun kicked off with the choice of either a sit-down breakfast at the Carnival International Buffet or a quick, grab-and-go bite from the Coco Café. From there, the team met in a reserved room for introductions, ice breaker activities, and team breakouts for OKR updates and reviews.
The team then dispersed for an hour lunch break at one of three spots — Barefoot Grill (casual poolside grill joint), Carnival International Buffet, or the Coco Café — before heading out for an afternoon of free time relaxing, exploring, and enjoying the property.
To wrap up day one, employees enjoyed a sit-down taco dinner at the Bambu Room.
Day 3: Team activities, COVID testing, and more leisure time
After breakfast on day three, everyone convened for another morning of team-building exercises and OKR reviews — plus a team photo! Because this was the second to last day, Flok also arranged for COVID testing anytime from 9:30am - 4:30pm.
The afternoon was reserved for leisure before the team split into five separate groups for smaller, more intimate dinners.
Day 4: Final team meeting and check-out
To conclude the retreat, Firstbase.io hosted a final team meeting in the morning before leaving time for everyone to pack up, check out, and make their way onto the bus back to the airport.
The takeaways
"Most of the team members were meeting each other for the first time," explains Konstantin Dubovitskiy, Growth Manager at Firstbase.io, "and everyone had a great time. The return on investment is very much tangible — the whole team felt unity and the team culture has gradually improved since then. We are actually thinking of doing this every six months or so rather than annually."