Slate is a small but nimble 29-person team spread across 11 countries in North America and Europe. With a custom mobile app to overlay content with branded fonts, colors, filters, graphics, and animations—then post directly onto platforms like Instagram Stories and TikTok—Slate helps brands more efficiently create social content.
In late January, they met in-person for a team offsite at the Grand Hyatt in Playa del Carmen, Mexico. Here's how it went.
Aligning on retreat goals
"We have been a fully remote, fully distributed company from day 1," explains Michael Horton, co-founder and CEO. "We do not have a physical location but cover co-working space for our team members if they choose not to work at home. This was our first ever retreat, and we had about 23 team members attend. It was primarily a chance for the team to meet in-person for the first time ever and bond. We also used this opportunity to align on vision as well as hold a few workshops."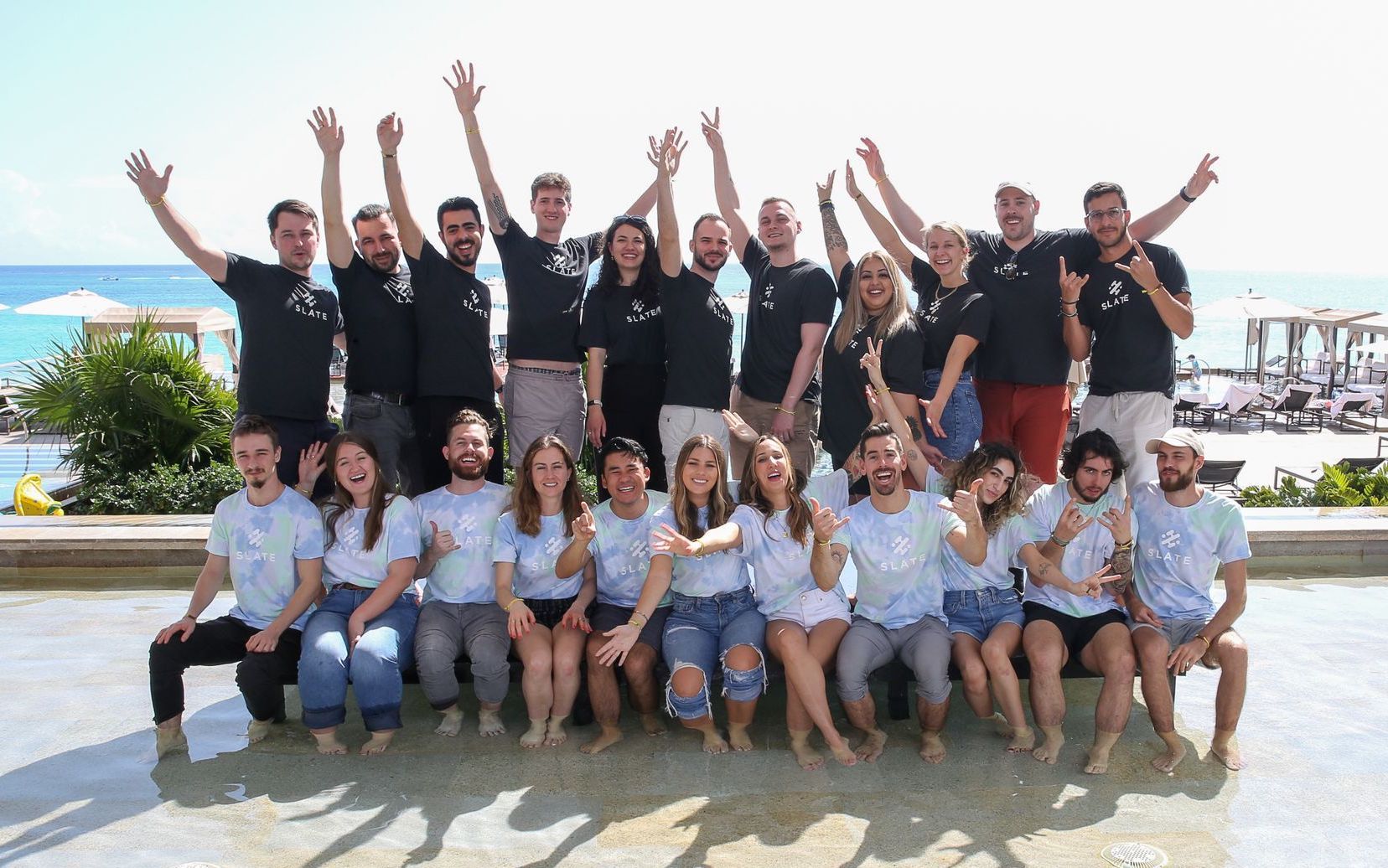 Deciding on a destination
While Mexico was always on Slate's shortlist, Flok helped the team narrow down the location based on several key considerations:
Travel time for employees in the US, Canada, the UK, and Eastern Europe
Visas
Price
COVID restrictions
In the end, Slate landed on the Grand Hyatt in Playa del Carmen—which is also where Loft Orbital stayed. With oceanfront rooms overlooking the turquoise Caribbean sea, daily onsite COVID testing, daily breakfasts/lunches/dinners, and ample work space with high-speed WiFi, it doesn't get much better.
Planning the itinerary
Slate spent most mornings working in order to reserve the afternoons for team outings (like a boating and snorkeling excursion) and free time (at the pool, spa, fitness center, etc). They also set aside time for headshots and a group photo, as well as a sunset team reflection on the last full day.
"The highlight for us as founders was getting to see this amazing group of people we've brought together meet each other and interact in person for the first time," says Michael.
The takeaway
Moving forward, Slate hopes to organize at least one team offsite a year, with the next one in a destination that's a bit easier for the European team to travel to.
"For us, a retreat like this has a huge impact on the company," adds Michael. "Because we are fully distributed and remote, getting the opportunity for everyone to meet in-person goes a long way towards building a stronger culture for the future."